By Marsha Wilson Rappaport
I am one of those. If I pick a four-leaf clover, I will get poison ivy. That being announced at the onset, I can explain my current plight. I am a journalist with a very depressing social service day job. Several months prior to the COVID-19 crisis, I turned my blog into a podcast. Both are called "Staying Vertical". I am over 65 and I like to rant about stuff that drives me crazy. Much like one of my idols, the late Andy Rooney, I want to know why there are so many things in the modern world that don't work properly or even make sense.

Once you get older some of that stuff really works your nerves. I have ranted about why all of my tech is fashionably black, which makes it impossible to real the dials or buttons without a search light. I recounted my brave move to go to trivia night with trendy nerds who wore flannel and had beards. I write book reviews. I generally, just amuse myself, so that I won't focus on my arthritis and long stays in the "reading room" because I have IBS.

I was kinda on a roll by January. The podcast was running on a local radio station and was accepted on all of the major outlets. By February, I was tuning in to iTunes, IHeart and Spotify to croon myself to sleep after I took my blood pressure meds. It was fun project and I was looking for sponsors. My podcast was designed to cheer all of us up by pointing out how weird life gets when your hair turns gray.

AND then, the thing happened. The strange nature of my situation hit me on that day a young man on the beach refused to leave because " only old people " get the virus. The messages kept coming. Day after day of broadcasts begging people to social distance so they won't kill an old lady like me.

Can I share this with you? There is NOTHING – remotely funny about the idea of the grim reaper, bouncing a red spiked green ball, sitting in your bedroom corner while holding a sign that says "old folks" . Somehow my next podcast, where I explain my quest to find a safe way to slice onions without risking my less than steady fingers with big stainless steel knife seemed real unimportant.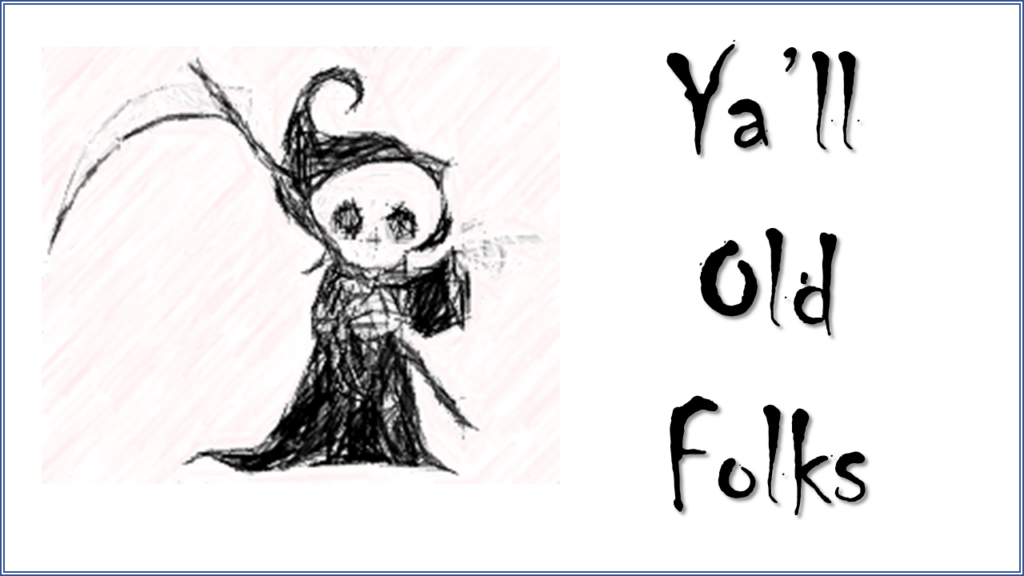 March came and went. My writers block had gone into full lock-down, just as I had to do to avoid what seemed to me had evolved into the worst, bad horror movie ever. I had to admit it – I was afraid. Trips to the grocery store had become traumatizing. Retrieving the mail, required the repurposing of dishwashing gloves and a disinfectant spray staging area.

The rich imagination that was whining about senior moments and aggravation had turned on me. Everyday had become the Passover scene from the classic "Ten Commandments". I worried about that creepy green mist, dropping from the sky and floating near my door. This fantasy was made even more unbearable because there were no guest appearances from Charlton Heston or John Derek telling it was going to be o.k.

April is here. I owe myself a Podcast. I think I'm going to talk about why we need brave and honest leadership during this crisis. It's not really funny – but if you're an old lady being stalked by the grim reaper – you might as well say your peace!!