By Marsha Wilson Rappaport

Here's a news flash: if you were never a skinny kid, a skinny teen or a skinny grown-up – there won't be a magical skinny fairy to save you when you are over 65! Eating healthy is a challenge when you work for a living. Eating healthy during a pandemic takes on added layers of anxiety.

Trauma 1: Going to the grocery store.
Even carefully planned, list in hand, shopping for food is a trip fraught with fears. My PPE tote is filled to the brim with the essentials: extra masks, cute little blue nitrite gloves, hand sanitizer and sanitizing wipes carefully separated in a small plastic zipper bag.

Trauma 2: Getting everything on your list.
I kid you not, finding out I forget the mustard sends me into a tizzy.
Trauma 3: Getting vegetables I have to slice and dice in order to stay on track.
Trauma 3 has proven to be a real sticking point. I watch a lot of cooking shows. I am mesmerized by recipes I don't have the talent to cook with ingredients I cannot possibly afford – even if I could find them locally.
That being said, I do understand the basics. And I know that in order to vary my diet, I need to keep it flavorful. For example, I know that the best way to dress up my uninspiring affordable ground beef patty is to artfully top it with a pile of caramelized onions.

Within the past few years, I've upped my game. I found out that my "brown thumb syndrome" vanishes what I use one of those cute Aero Gardens with water. I have grown lots of Basil and other green stuff to take my affordable ground beef and medium-sized chickens to the next level.

Alas, there is peril built into the game. You know those flashy knife skills you see on Iron Chef? Ever watch in amazement as they dismantle a hunk of cow, or filet a big fish in mere seconds? Yea – well that's not a nearly 70-year-old woman who has been nearsighted since she was three!
As a result, as I have gotten older, I began to start looking for clever ways to slice my onions wafer-thin, without adding my finger to the pile.

1. A good Mandolin Slicer – Surprise, as the onion gets thinner, even with the cute, little, spike holder, your fingers get real close to a really sharp blade. Got pricked by the spikes on the holder and cut by the blade.
2. A Spiralizer – Great on Zucchini! Tears onions to messy shreds. Put up on shelf, until I grow-up enough to appreciate zucchini – the age I'll be when I appreciate Kale.
3. Ceramic Knives – Wonderful for the big start. Still a sharp blade when you really want thin stuff.

Finally, I got a hint from one of the Foodie Gurus. One night, while I was wrestling with my insomnia, I saw Chef Geoffrey Zakarian, talking about a "safe way to slice". I was excited. Here was a guy, I had nothing in common with except hair. He is the epitome of New York chic, well-dressed, totally pressed award-winning Chef with a flawlessly styled head of white hair. I have white hair and I needed whatever he was selling so I wouldn't add a trip to the Emergency Room during a pandemic to my list of adventures. I know it makes no sense – but this one Iron Chef has seen into my soul.

So, I did the online search and found out who was marketing his neat invention. I bought some really fresh, sexy onions and then checked the tracking numbers every morning until my package came.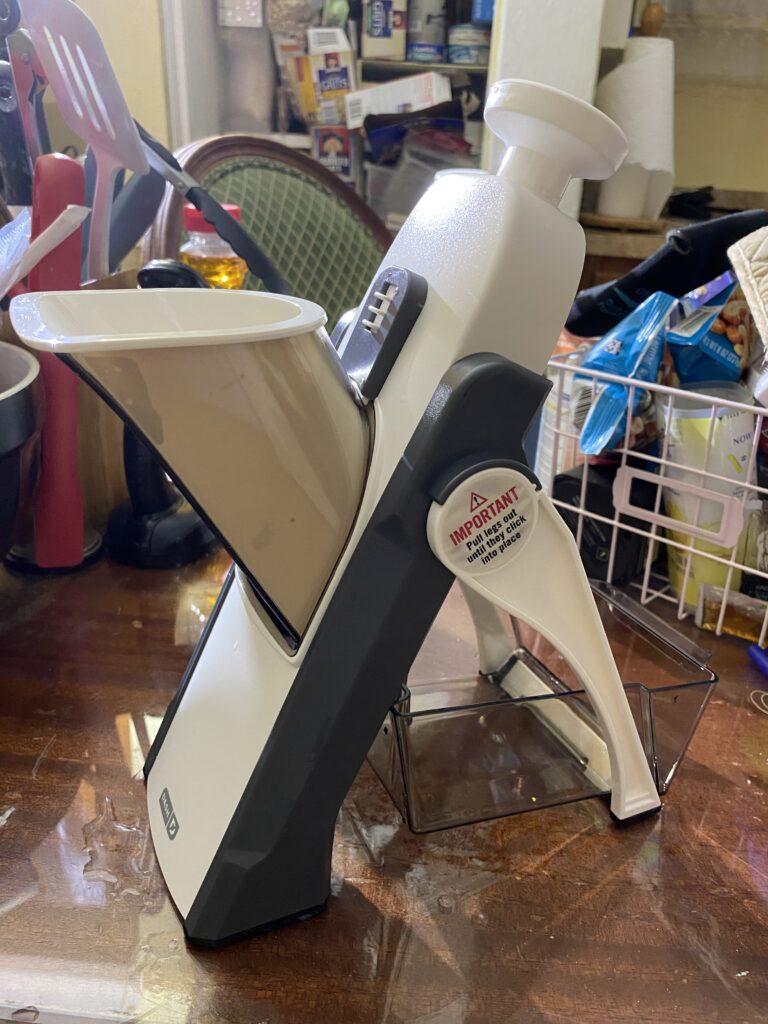 And Voila!
Piles and piles of thinly sliced onions were produced without a single nick or cut. I even washed my new gadget and cleaned it without fear. My lowly ground beef was totally elevated as I joyfully positioned it on a bed of egg noodles slathered with "I Can't Believe It's Not Butter".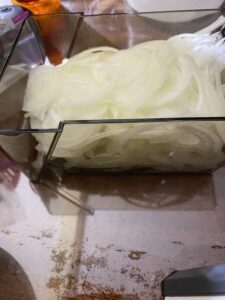 I know in these troubled times; it seems like a small thing. However, this persistent anxiety was one that has haunted me a long time. It didn't just start when I got old. Actually, I was so nearsighted as a little girl that I was teased because I used to trip up the stairs in church. Clumsy is real thing – that unlike wine, does not get better with age.

It's a small victory! I'd like to suggest you look around, look past the darkness and find one you can celebrate. These days every little win-win helps!